'
One who gives food gives all that is worth giving in this world.'

Annadaanam is conducted on all Thiruvonam days, the Nakashtra of Sri Maha Vishnu 
If you wish to provide a complete 'Oottu' on any specific Thiruvonam Nakshatra day of your choice the contribution and details are as follows:
Contribution amount

: Rs 27,000 

The amount covers servings for  about 250 people, in 3 to 4 sittings, in the temple's 'Agrasala'.

Oottu is served after Nivedyam is offered to the Deity, and is presented with the delicious 'Paalpanthirazhi Payasam', described below, as a Prasadam accompaniment.
Sponsors who are available on-site on the day of the Oottu are invited by the temple to light a Deepam in the 'Agrasala' prior to commencement of the serving of food and, are also welcome to  serve if they so desire.

A chanting of Vishnu Sahasranama Japam precedes Thiruvonam Oottu, in the morning.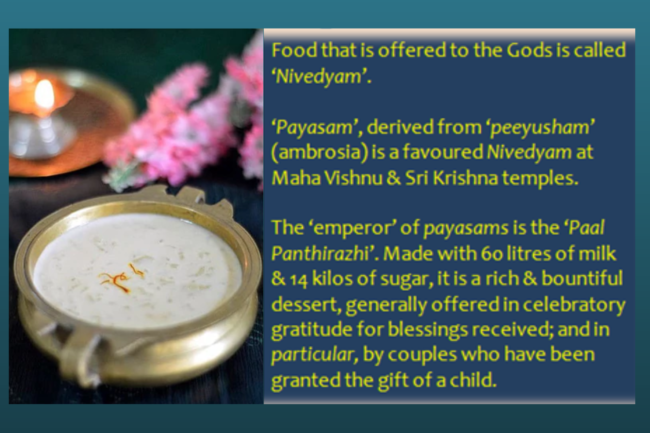 Amounts less than Rs. 27,000 (Rs 100 minimum) will be received with gratitude, and credited to the general Annadaanam Fund, for added servings.
 Kindly call any of the following numbers for advance bookings and briefing:
A. P. Mohan :         9526007133  (Whats App)
Payments by Cheque, may be made favour:
Manager, Thiru Kachamkurissi Devaswom
& posted to:
Thiru Kachamkurissi Temple, Payyalur, Kollengode P.O, Palakkad District,  Kerala 678506
Direct Bank transfers to:
Manager,Thiru Kachamkurissi Devaswom
Canara Bank, Kollengode Branch  
S/B Account :  1317 1010 11283      IFSC Code : CNRB 0001317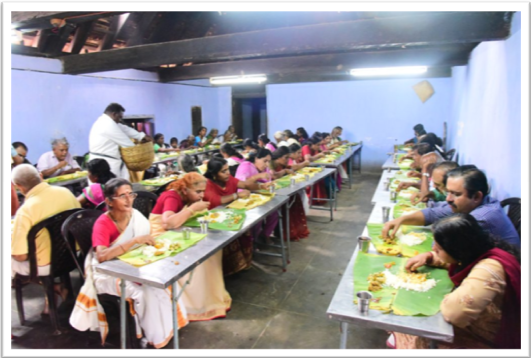 Thiruvonam Oottu in progress at Kachamkurissi Agrasala